The story of Nehemiah is the story of a person called by God, who knew the mission, and understood the honor that his life could bring to God. In the process God used Nehemiah to reBUILD a city and inspire a people.
When God puts it in your heart to reBUILD your life, your family, or your community, you can be sure that the enemy of God will use anything and everything he can to stop you from renewing hope. In today's sermon from Nehemiah 6:1-4, we learn about the enemy's tactic of distraction and how to stand firm.
And I sent messengers to them, saying,
"I am doing a great work and I cannot come down.
Why should the work stop while I leave it and come down to you?" – Nehemiah 6:3
 Distraction brings ___confusion________
Confusion is ____unbelief_____ that fails to ____prioritize______ God.
Not every ____invitation______ is a reason for _____celebration______ | Nehemiah 6:1-3
Identify Distractions by Asking Four Questions:
Who is inviting you?
Where are they inviting you?
What is there motivation?
Why should the work you are doing stop? Or should it?
1 Chronicles 8:12 | 2 Corinthians 11:12-15 | 1 Peter 5:8-9 | John 10:10 | Matthew 7:13-14
Distraction is a ­­­­____constant____ enemy | Nehemiah 6:4
Luke 9:51-56 | Hebrews 12:1-3 | James 1:2-18 | Romans 5:3-5
DETERMINATION BRINGS ___clarity___. CLARITY IS BELIEF
THAT WHAT GOD HAS ____started____ HE WILL ____finish___.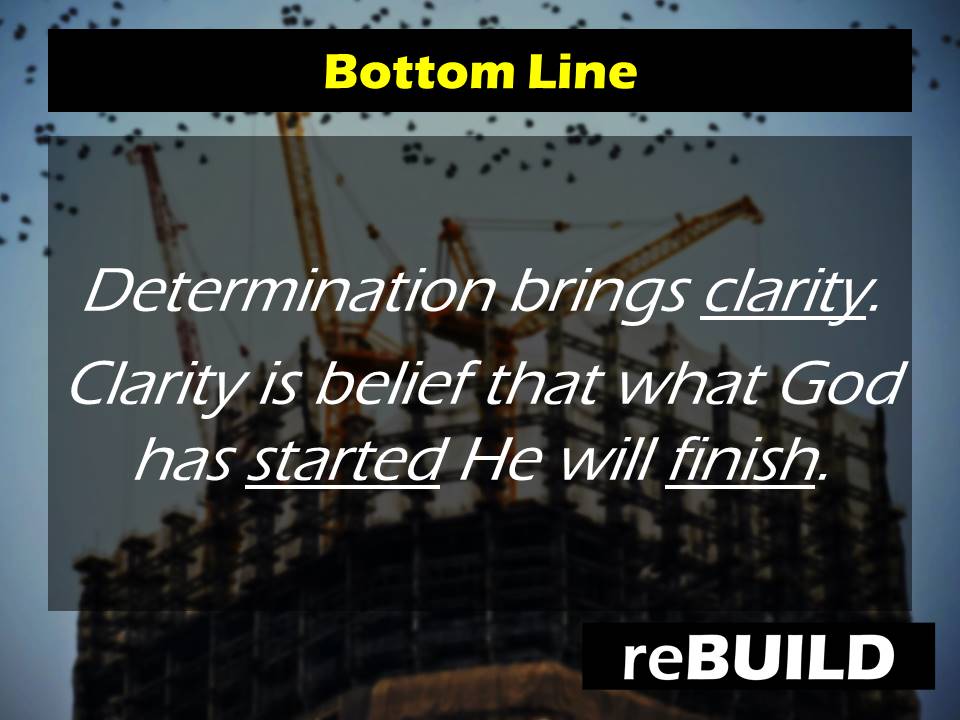 This Week's Bible Reading
| Nehemiah 6-8 | James 1 | Luke 9 | Romans 5 | Proverbs 10-14 |
Coming Up: reBUILD in the Face of:
Accusation (1/31) | Devastation (2/7) | Discouragement (2/14) |
Intimidation (2/21) | Greed (2/28) | Distraction (3/6) | Fear (3/13) |